Hockey unites people in unique ways.
Sometimes it just makes you unique.
Like when friends didn't believe Tavon Phillips when he told them he was a hockey player.
"They be like you're lying, like I never knew you played hockey. I'm like yeah. We different."
East Baltimore is different too.
"I mean, living in Baltimore is tough. Homeboys die here and there. You like dang, it's time for me to change my route."
Changing routes
That's what the Baltimore Banners do.
"This program right here gave me hope. I'd probably be in jail from selling drugs, hopeless, wandering around in life like a ghost," Co-captain Ronald Phillips said.
The team, started in 2003 by a local non-profit, offers kids in East Baltimore free ice-time, equipment, and mentorship.
And hey, it's fun.
"I was skipping school so I could eat," 21-year-old Tyrone Carey said. "I was doing what I had to do. I had to grow up quick on my own. I got introduced to hockey and figured while I'm doing all this hard work, I can still have fun."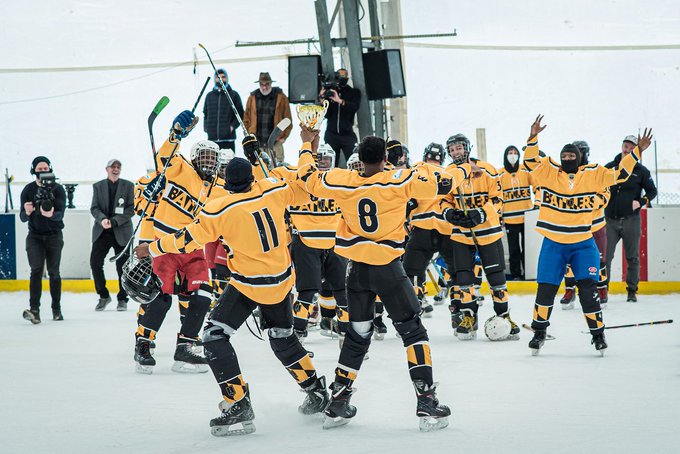 Family business
"It's about family," Co-captain Daryl Fletcher said. "It's a big support system."
"Most of my teammates — most of them, I grew up with them since I was little—so it's more like a brotherhood. That ain't teammates, they're brothers."
He talks about the important role Noel Acton has played.
Acton created the Banners in 2003 when he noticed there was no team in the area, let alone one for free. At 83, he still runs the local non-profit.
"We really view this as a mentorship," Acton said. "These kids have every coach's number. They can call us day or night."
Thousands of kids have benefitted.
In 2022 the NHL gave Acton its Willie O'Ree Community Hero Award.
Playing for each other
They play for the Banners and they play for each other.
They recently honored two team members that had been killed by gun violence.
"Not having them today hurts. Peanut and Abe not here."
Now their jerseys hang in the rafters.
The Banners play against other rec teams in the area.
Most notably, the Sentinals, a team made up of police officers and firefighters.
Being on the ice together bridges what has been a historical divide.
Their game is now an annual tradition.
What's their style?
Baltimore has a style all it's own. For the Banners, that's apparent.
4 A.M.™️ All-over Print Game Jersey
WAKOTA™️ Pom Beanie